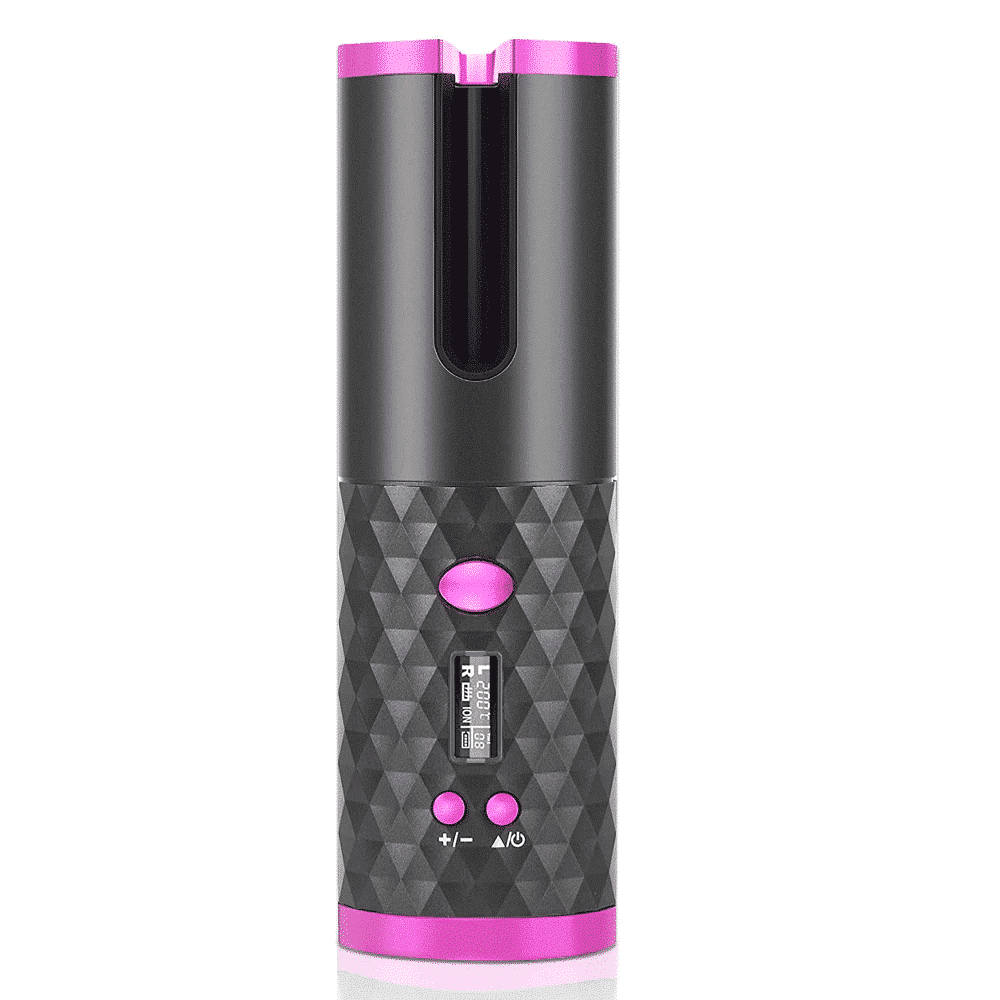 Wireless Automatic Hair Curler
Specifications:
1.Input and Output Volt/Current:DC 5V/2A
2.18650 Battery Volt:3.6V
3.Battery Capacity:5000mAh(2500mAh*2)
4.Micro USB Cable for charging
5.Charging Time: 4.5 hours
6.Working Time: 1 hour
7.Warm-up Time: 2 minutes (150Celsius)
8.LCD Display: Heat, Timer, Battery Level and Curl Direction
9.Heat insulation within the curling chamber for skin/eye protection
10.Ceramic-coated Barrel
11.Anti-tangle Protection
12.Ultra-small and cordless, to easily take
13.32bit IC: Faster and Smarter
14.Auto Shut Down: no operation after 10 minutes
15.Weight: 374g/13.2 oz.
16.Size: 2"x7.5"x2" diameter
Style in 5 easy steps:
1. First-time use. Charge fully for 4.5 hours.
2. Choose your heat and select your curl direction. Left or right.
3. Start with a 1-inch section of hair.
4. Insert hair into the curl chamber, press and hold the button to begin curling.
5. Wait for the beep and then release the perfect curl.
6 Time Setting for different hair waves:
8s/10s: slight curls
12s/14s: soft curls
16s/18s: strong curls
6 Heat Settings for different hair types:
150/160Celsius: Delicate, dyed or damaged hair
170/180Celsius: Normal and healthy hair
190/200Celsius: Rough or naturally curly hair
Tips:
1. The hair curler needs 2-3 minutes to heat up the heating rod for every first-time use.
2. The hair curler provides 6 timers, for thick hair please use a longer timer for each curl.
3. Full battery charged is required for the first time use and please hold the 'Curl' button and do not release it until a beep sound.
Package List / Accessories:
1 x Hair Curler
1 x Micro USB Charge Cable
1 x Carrying Bag
1 x User Manual
The production of each piece of jewelry generally takes 2-4 business days.
Once your order goes into production, that is when your shipping label is printed. Your order stays with your shipping label throughout the whole process, as your order details are printed on the shipping label. 
Once production and quality check is complete, that is when your order gets shipped out. What gets printed on the shipping label is what YOU entered for the customization of your order - which is presented on your order confirmation page.
We do not have the ability to change orders. We allow cancellations or changes up to 1 hour after you order, beyond that is a case by case basis.
See Shipping Policy