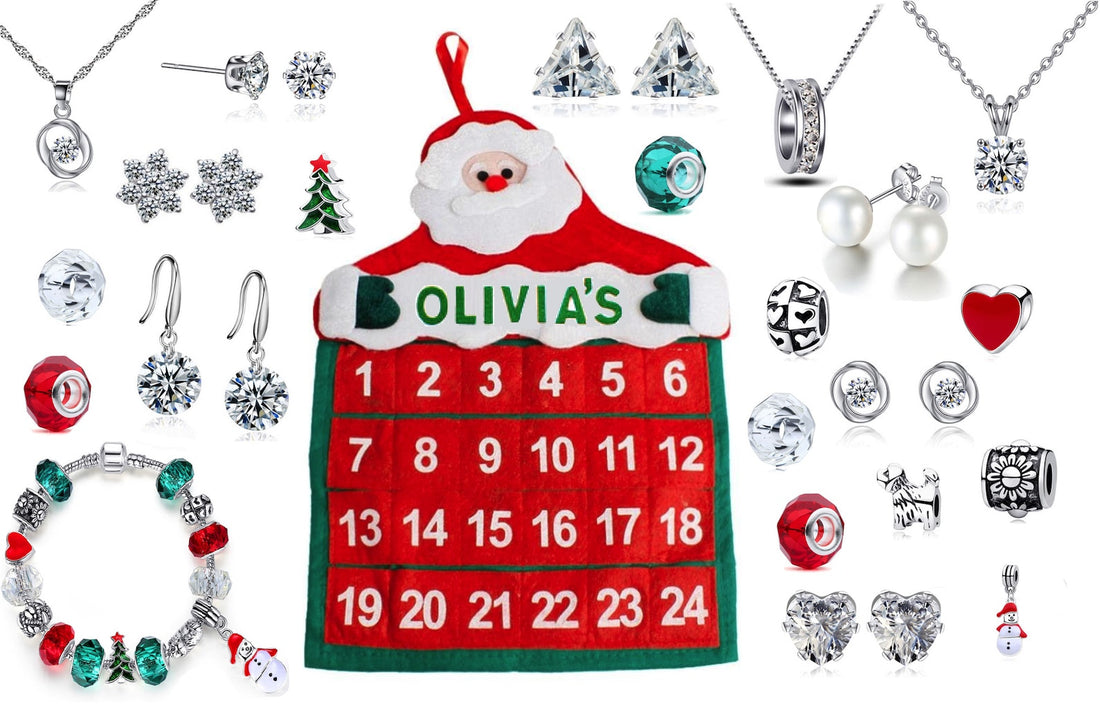 Personalised Jewellery Advent Calendar with some gifts created with SWAROVSKI® crystals
This is not your usual Jewellery Advent Calendar, measuring approximately 50CM in length and 40CM wide it has to be one of the best Jewellery Advent Calendars. With 24 generous sized pockets and wonderful gifts ranging from charms, bracelets, and even earrings, 4 of the items are made with Crystals from Swarovski® you will be truly spoiled from the 1st of December right up until the 24th. Jewellery made from a range of metals/platings including Alloy, Brass, Rhodium Plating and Silver Plating. Please note that not all Calendars contain exactly the same however each contain the full Charm Bracelet and Charms. Included with each Calendar is a letters and characters sheet which contains 2 of every letter of the alphabet. Each letter is a 3D style and is approximately 2CM x 2CM with a secure sticky back, you will be able to spell more or less every name imaginable. Should your name contain more than 2 of each letter, please just let us know and we will provide you with even more letters.
The production of each piece of jewelry generally takes 2-4 business days.
Once your order goes into production, that is when your shipping label is printed. Your order stays with your shipping label throughout the whole process, as your order details are printed on the shipping label. 
Once production and quality check is complete, that is when your order gets shipped out. What gets printed on the shipping label is what YOU entered for the customization of your order - which is presented on your order confirmation page.
We do not have the ability to change orders. We allow cancellations or changes up to 1 hour after you order, beyond that is a case by case basis.
See Shipping Policy