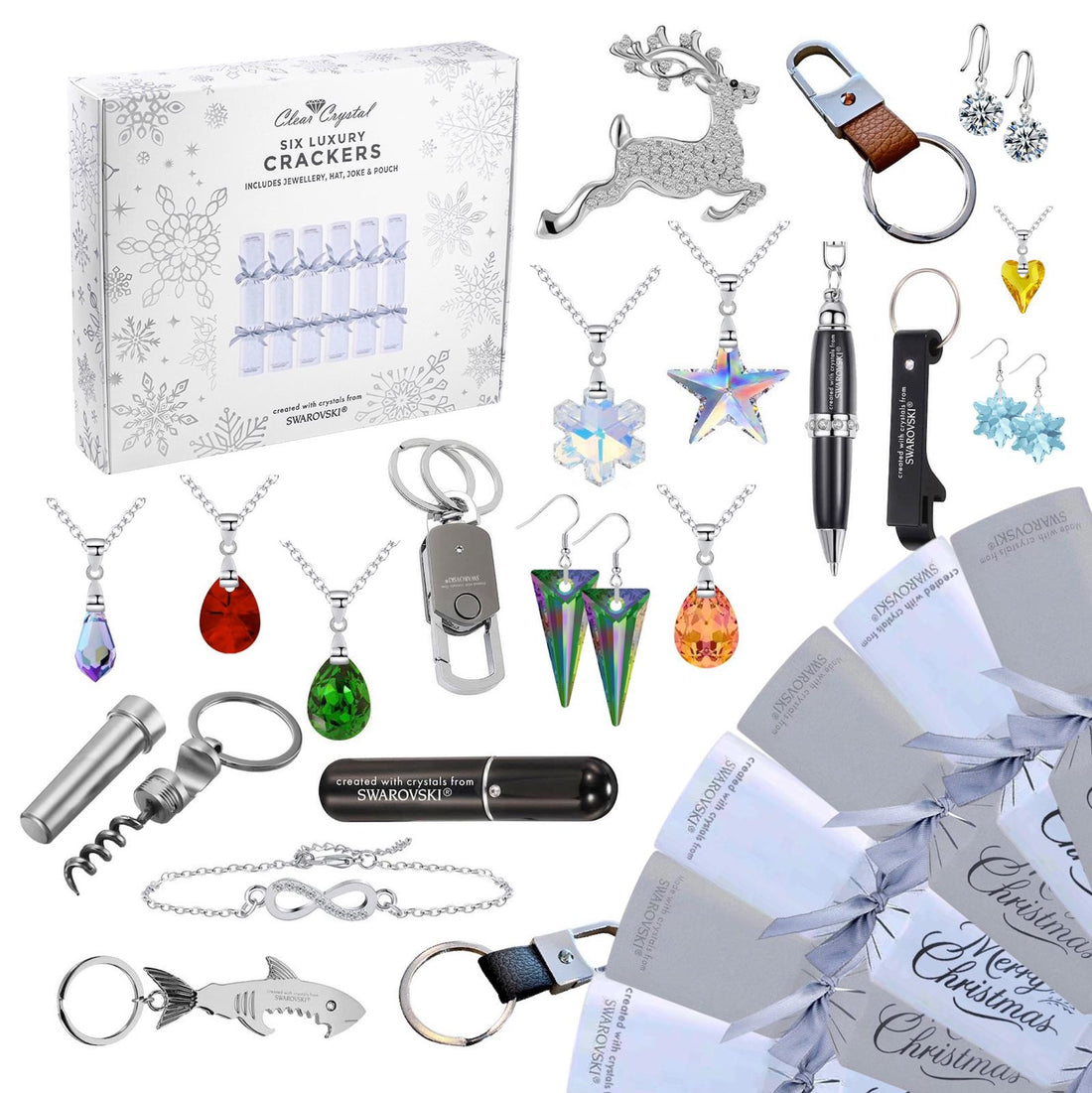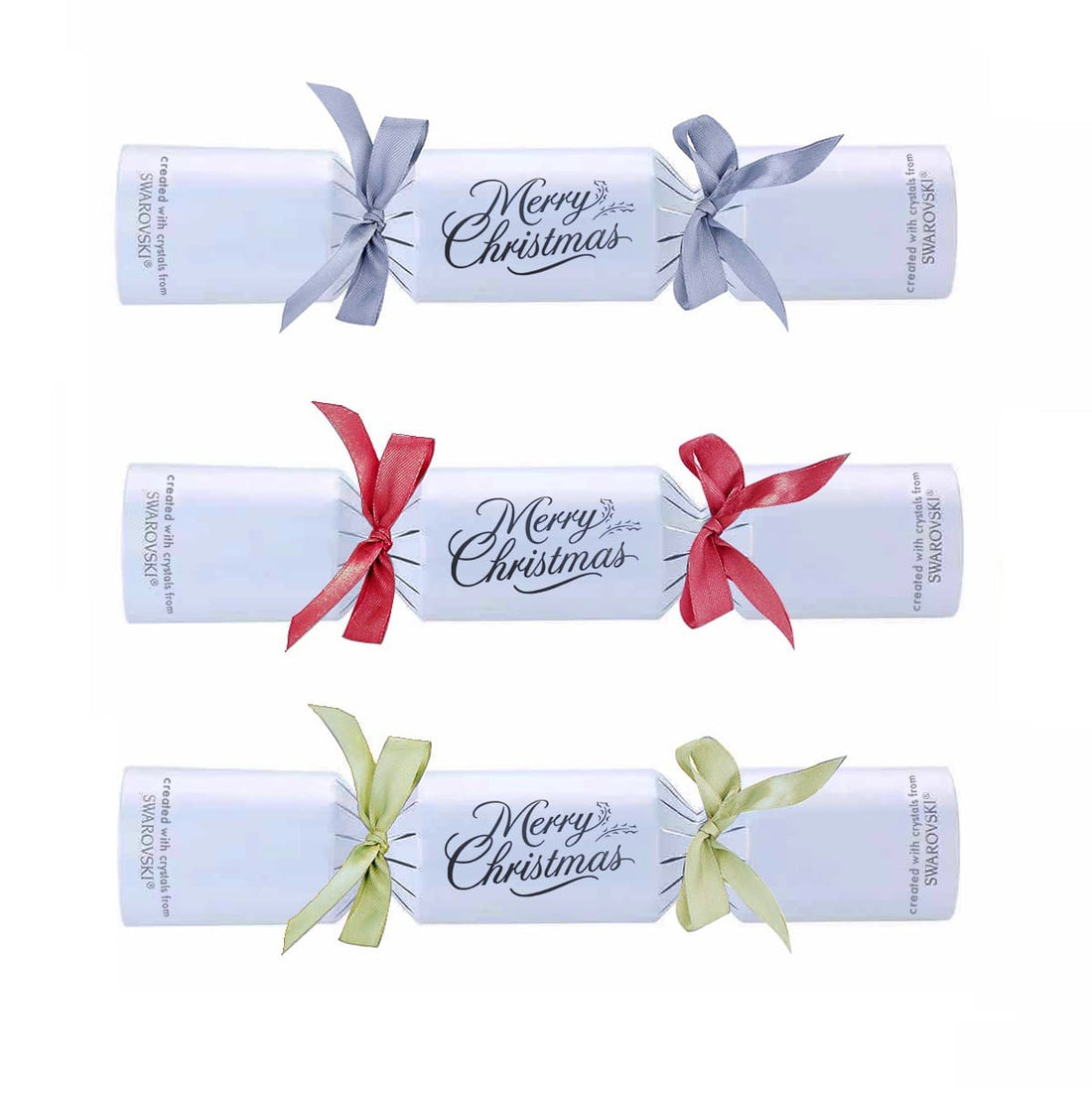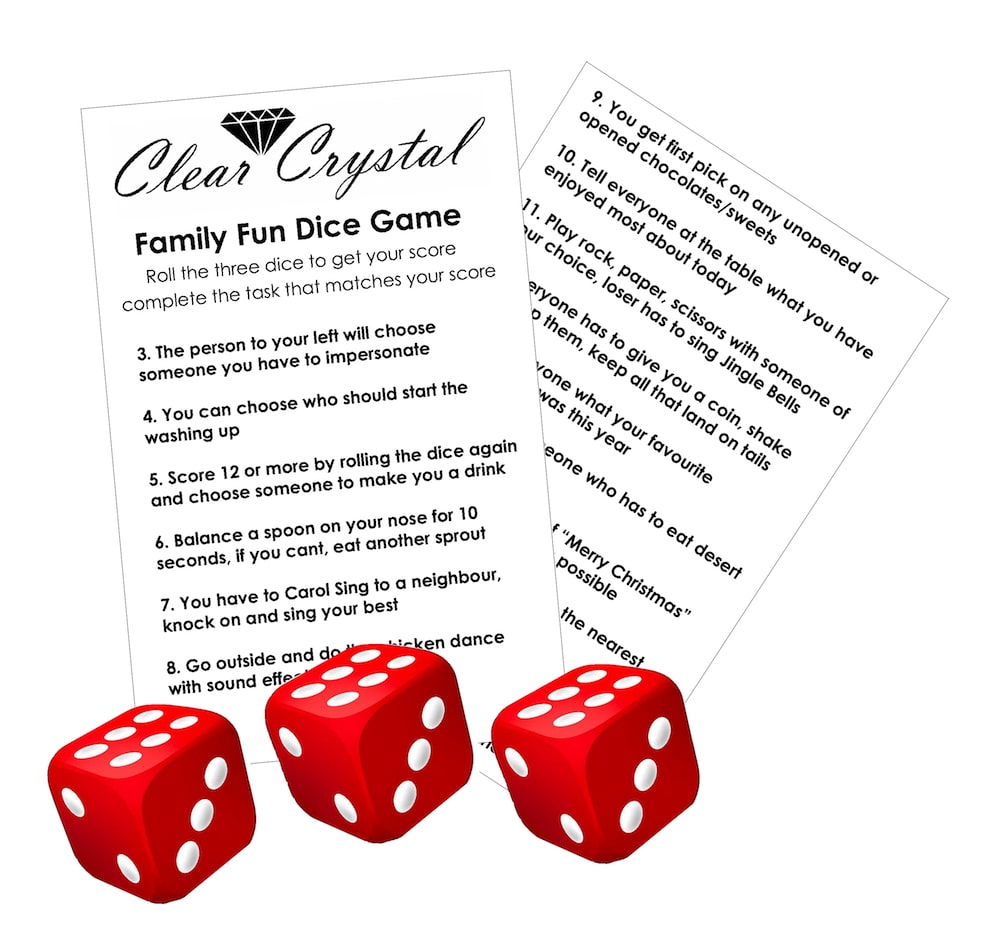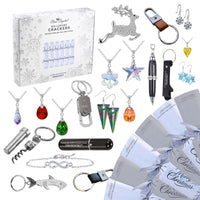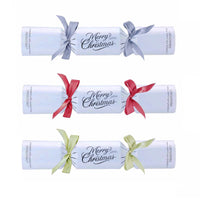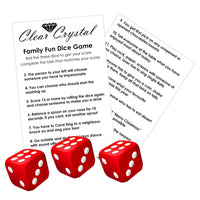 CHRISTMAS CRACKERS - Crystal Jewellery Gifts 2 Boxes of 6
Clear Crystal Luxury Christmas Crackers featuring male & female Jewellery pieces created with fine Austrian crystals. Each box contains three Unisex gifts and three Jewellery pieces from our Clear Crystal range and can be enjoyed throughout the year, many of the gifts are unisex and are suitable for everyone. All pieces are made from either Jewellers Brass with Rhodium Plating, Aluminium or Stainless Steel. If you feel that someone may not appreciate an item of Jewellery we suggest placing them with a white crackers paper as most of the Jewellery items such as earrings or necklaces are placed into the Silver Crackers Paper.
Gifts include:
Shark Bottle Opener, Wine Bottle Stop, Cross Necklace, Key Ring, 8mm drop Earrings, Heart Shaped Pendant, Reindeer Brooch, Key Chain Bottle opener, Key Chain Pen, Zippo Style Lighter, Infinity Bracelet, Atomiser Perfume/Aftershave, Snowflake Pendant, KeyRing with Bottle Opener and Clip, Star Necklace, Corkscrew and Bottle Opener, Spike Crystal Earrings, Snowflake Crystal Necklace, Leather and Steel Keychain, Snowflake Crystal Earrings, multiple Necklaces with Austrian Crystals
Each set includes 12 Red, 12 Sliver and 12 Gold Ribbons.
* NOT TO BE SOLD TO ANYONE UNDER 12 YEARS - For the Republic of Ireland the minimum age of sale is 16. CATEGORY 1
**RED & GOLD Ribbons are FREE of charge and included if you would like to change colour themes**
Decorate your Christmas dining table with our Christmas silver decorations and make CLEAR
CRYSTAL a part of your happiness! Bringing to you a box full of surprises and premium quality
contents. Some of our gifts are created from the finest crystals in the world. So you always pop
our Xmas crackers with a smile!
Sure Christmas is all about red and gold, but if you love a sprinkle of grace and refinement in
your every party decoration, add this silver crackers luxury to your menu. We also include bonus
red and gold ribbons in case you catch yourself in a festive mood. These Christmas crackers
highlight a silver package with elegant font and detailing that makes them attractive to family
members of all age
The production of each piece of jewelry generally takes 2-4 business days.
Once your order goes into production, that is when your shipping label is printed. Your order stays with your shipping label throughout the whole process, as your order details are printed on the shipping label. 
Once production and quality check is complete, that is when your order gets shipped out. What gets printed on the shipping label is what YOU entered for the customization of your order - which is presented on your order confirmation page.
We do not have the ability to change orders. We allow cancellations or changes up to 1 hour after you order, beyond that is a case by case basis.
See Shipping Policy